Are You Ready For A Remote Job Search?
Too often, we get ahead of our job searches. Fed up with our current career or job situation, we start mindlessly searching without an end goal in mind.
Sound familiar?
You Want Out. So You Try The Spray and Pray Method.
Don't worry. We've all been there. And, while taking immediate action can feel like you're being proactive it's actually counterproductive.
That's because you end up spending precious time, energy and effort on all the wrong remote jobs. This is what we call the Spray and Pray Method.
In other words, you apply to any and every remote job under the sun and -- fingers crossed -- hope you get a job offer out of it.
At this point, you're so desperate to get out of your cubicle that you've convinced yourself you'll take any remote job. Period.
And, sure, if you do miraculously get hired this way, you might be happy for, say, a few months. But once reality sets in and you realize you've committed to a remote job that wasn't right for you, you'll be back at Square One. No bueno.
You've Got A Case of Information Overload.
Maybe you're convinced remote work is right for you but just can't figure out what comes next. You know a daily commute is out of the question, but you can't quite put your finger on what comes next.
So, you do a lot of research. You browse plenty of jobs, but you never actually set into motion your plan to ditch your daily commute.
All your research was supposed to make your feel empowered to make a career change but instead you feel paralyzed.
You've got a bad case of information overload. You're caught up in your own head and unable to act. You need stop thinking and start doing.
Welcome To Career Action Plan & Goal Setting For Remote Job Seekers
The purpose of this personalized career coaching session is to clear the mental clutter and cut to the chase. There's a lot of information out there about remote work but little personalized help for job seekers, like you.
We will work together to identify your career ideals, create a concrete career goal, and develop a plan.
Because a goal without a plan is just a dream, right?
All it takes is just half an hour of focused effort and honest answers to come up with a goal and follow up plan to help you make strategic career moves...
... Let's Do This!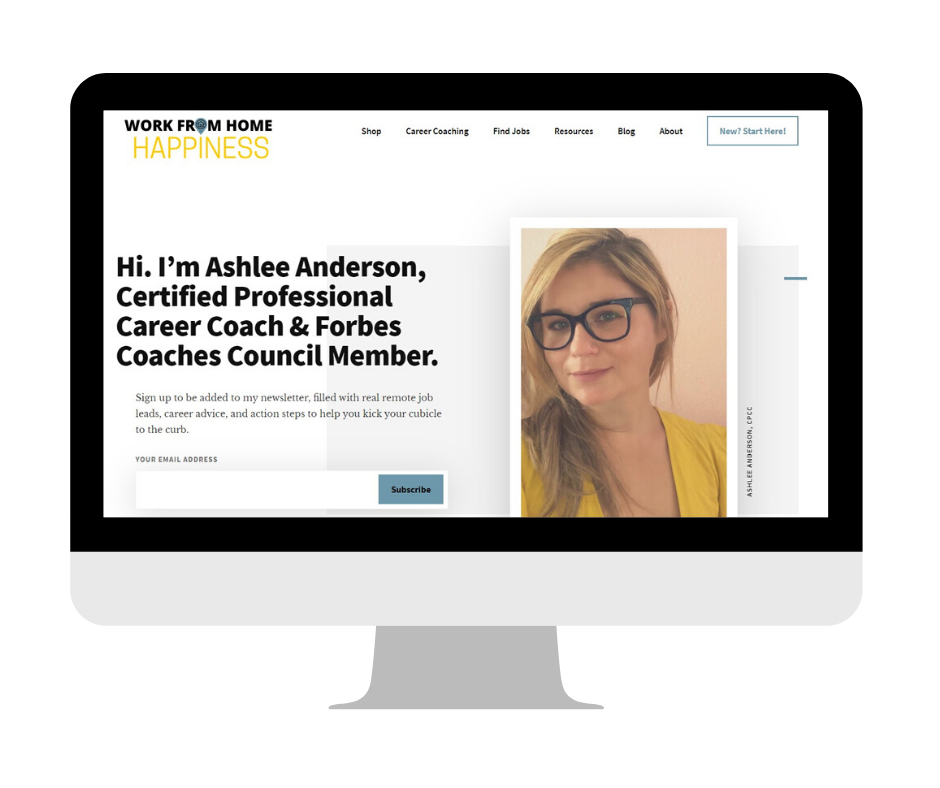 Your Coach, Ashlee Anderson.
Hey! I'm Ashlee. A golden retriever owner, mom, longtime resident of the Sunshine State and cooking show fanatic (Chopped, anyone?). I also love office supplies, rose gold everything, and books -- lots and lots of books.
Professionally, I've been helping people navigate remote careers for the better part of a decade. I'm a Certified Professional Career Coach (CPCC), Forbes Coaches Council Member and founding blogger of Work From Home Happiness.
I truly believe the future of work is remote. But I also know it's not always easy to transition for commuter to telecommuter.
So, I like to roll up my virtual sleeves and work with remote job seekers to help them make the most of their job searches while avoiding misinformation, scams, pyramid schemes and multi-level marketing programs like the plague.
Who's The Remote Career Goal Setting Action Plan For?
The Goal-Getters
I mean "goal" is in the name of this coaching call, so it's definitely for anyone who considers themselves goal-oriented. Together, we'll create the best goal to help you move forward in your job search so you can be the natural goal-digger that you are!
The Information Overloaded
It happens to the best of us. Too much information isn't empowering -- it's overwhelming. When you're stuck and paralyzed in inaction, we'll talk it out and come up with the perfect plan for you.
The Stuck Cubicle Dwellers
So, you've been working in an office your entire career? Don't let that hold you back! You can absolutely transition to a remote-friendly role. We will identify your strengths and use them to create a goal and plan that highlights your awesomeness.
The Planners
You need a concrete plan in place before you'll consider making a drastic change. No problem! I've got you covered. Let's put out heads together to figure out your unique selling point and deliver a well-thought out plan that helps you reach your remote-work goals.
What Happy Coaching Clients Have To Say...
I work with a variety of remote job seekers at different career levels. No matter where you're at or where you want to go, my goal is simple: Offer a whole-person approach to coaching that helps you make strategic career moves.
But don't just take my word for it! See what happy coaching clients have to say...
Frequently Asked Questions
Can I get a refund if I'm unhappy with my purchase?
Yes. Yes. And yes! I'm not happy until you're happy. If for whatever reason you're unsatisfied with your coaching, let me know. I'll make it right or offer you a full refund.
How do I schedule my appointment?
After you purchase your coaching session, you will be asked to schedule your call through Calendly. You'll be able to pick a day and time that works best for you.
Can I purchase coaching more than once?
Absolutely! If you find yourself in need of coaching more than once, simply purchase the coaching again.